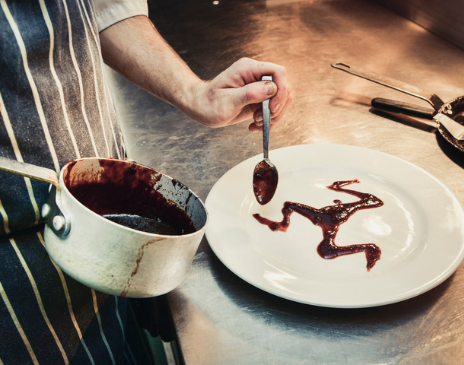 Reside along the water's edge and indulge in a spot of brunch or sunset dinner during your summer getaway to the Isle of Man. Breathe in the salty sea air while looking over one of the Island's beaches, bays or harbours and sample fresh local produce and signature dishes from the ever-growing number of passionate local artisans nestled along the coast.
Here are a few local favourites, located in some of the best waterside spots.
Coast Bar and Brasserie, Douglas Promenade
Situated along Douglas's bustling promenade lies Coast Bar and Brasserie, a luxurious art-deco inspired restaurant, offering panoramic views across Douglas bay. Dine in this first-class experience and indulge in the vast selection of exquisite dishes and local produce.
Best for… a glass of bubbly with pristine views of Douglas Bay.
Little Fish Café, Douglas North Quay
Feed your appetite at this seafood bistro, nestled alongside the charming harbour in Douglas. Using the freshest local ingredients, Little Fish Cafe produces a delicious array of dishes and pays homage to some British seaside classics.
Best for… a sophisticated weekend brunch, overlooking the picturesque harbour.
The Boatyard Restaurant, Peel Harbour
Situated on Peel's historic quayside, The Boatyard not only offers views of the bustling marina but also spectacular views of Peel Castle. Stop off at The Boatyard for a delicious lunch or a candlelit dinner, and choose from one of the many seafood specialities on the Seasonal ā la carte or daily fisherman specials' board.
Best for… a sunset dining experience.
TWO-SIX Café Bar & Restaurant, Derbyhaven
Dine alfresco at this delightful restaurant, just a stone's throw from the water's edge. Enjoy panoramic views across the southern coastline with a cup of tea and a slice of cake, or have a casual sunset supper at one of the restaurant's popular themed nights.
Best for… a relaxed atmosphere with panoramic coastal views.
Peel Breakwater Kiosk, Peel Pier
Perched on the edge of Peel pier lies the Sunset Kiosk, a local secret waiting to be discovered! Take your pick from the daily seafood specials' board, before sitting back and enjoying the incredible 360 degree views as you bask in the summer sun's rays.
Best for… fresh seafood straight from the sea to the plate.
Hungry for more? For further Taste eateries take a look at our Food and Drink section.
The eateries featured here are all members of Taste Isle of Man, a quality assurance scheme which celebrates eateries across the Island that show a commitment to quality, and to supporting local produce through the Harvest scheme. Look out for plaques at restaurants, takeaways, cafés and wine bars during your visit to identify quality eateries.
For more information on how to sign up to the Taste Isle of Man quality assurance scheme, email tourismquality@gov.im.

Related
0 Comments