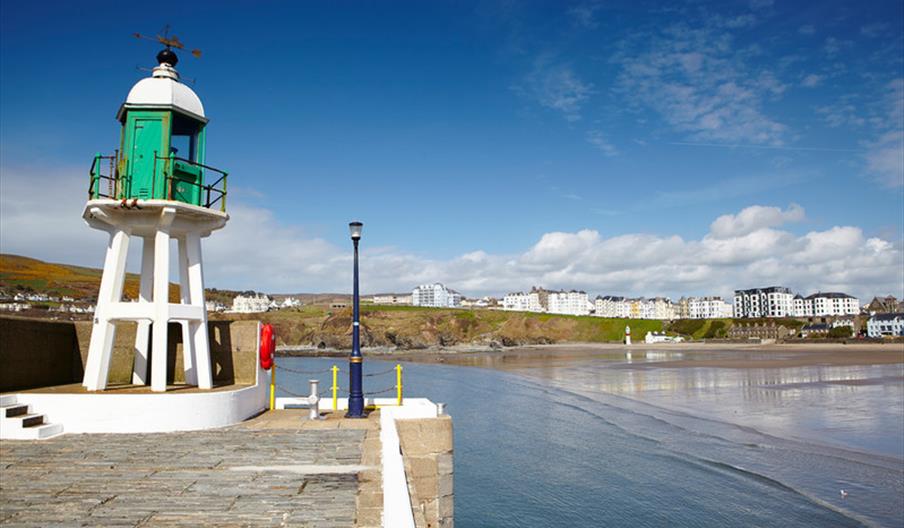 About
Position: Lat 54° 05'.3N Lon 04° 46'.3W
Port Erin is located in the south-west of the island, just slightly further up the coast from the island's southern most point of the Calf of Man.
VHF: Channel 12 (when vessels are due)
Admiralty Chart: No. 2696 (Plans in the Isle of Man)
Admiralty Sailing Directions: No. 37 - West Coasts of England and Wales, including the Isle of Man
Anchorages: Vessels up to 80m in length and 4m draft may anchor in bay by arrangement. Larger vessels should anchor outside the bay north of the starboard hand buoy (unlit) and about ½ mile from the entrance to the bay in depths of about 15 to 20m.This is within a prohibited fishing area marked by yellow buoys (charted), some of which are lit at night.
Restrictions: Enter harbour only on instructions from Harbour staff.
At Anchorage: No restrictions outside of the bay.
Entry: Subject to notice and only on instruction from the Harbour Office via VHF Channel 12.
Port Limits: The whole of Port Erin Bay shore side of a line between a rock called The Castles at the south side of the bay to the rock called The Sker at the north side.
Directions: Entry is gained on the leading marks (F.R.) heading 099° to clear the starboard hand buoy (unlit).Vessels up to 80m length and 4m draft can anchor in the bay. Port Erin is untenable in strong winds from SSW through W to NNW.
Max. Tidal Range: From 0.2 to 5.3 above C.D. (5.1metres) on high spring tides.
Pilotage: Is not compulsory but is available with prior notice to Agents or through the Harbour Pilot, Mr S Carter. Telephone: +44 (0) 1624 861724.
Tugs: No tugs available.
Radar: No radar coverage.
ID Cards: Required for ISPS Code purposes.
Facilities: Passengers ferried from cruise vessels are normally landed at the jetty; though, at high water periods, the seaward steps on the Raglan Pier may also be used. Harbour staff will advise most suitable location for landing passengers, depending on tidal conditions. Where vessels' tenders are used for such landings, such tenders must have valid certification and carry all necessary safety equipment.
Water: Fresh water is not available.
Fuel: Fuel is not available.
Waste Disposal: Garbage skips can be supplied by arrangement through Agent.
Port Managers: Neil Collister & John Watterson, Harbours Division, Department of Infrastructure, Sea Terminal Building, Douglas, Isle of Man. IM1 2RF
Telephone: +44 (0) 1624 686628 (24 Hour) Fax: +44 (0) 1624 686403 Email: MarineOperationsCentre.DOI@gov.im
Port Erin Harbour Office: +44 (0)1624 833206 (Manned only when vessels are due)
Customs & Excise: +44 (0)1624 648100
Port Agents: +44 (0)1624 833955, +44 (0)7624 324234