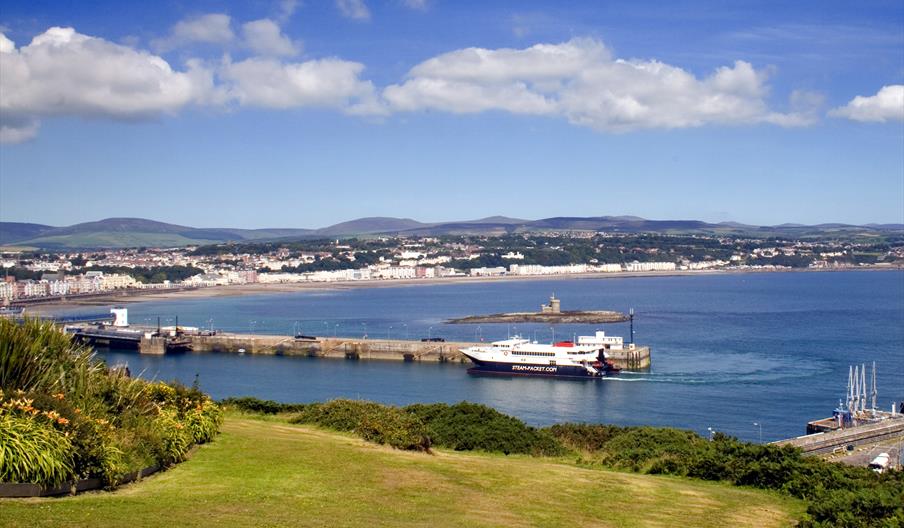 About
Position: Lat 54° 08'.7N Lon 04° 28'.2W
The main port of the Isle of Man with the most extensive facilities for both commercial and private vessels. Located on the east coast, Douglas is the only port with full indoor passenger handling facilities.
VHF: Channels 12 and 16 (24hrs)
Admiralty Chart: No. 2696 (Plans in the Isle of Man)
Admiralty Sailing Directions: No. 37 - West Coasts of England and Wales, including the Isle of Man
Port Agents:
Neptumar (IOM) Limited: +44 (0) 1624 649617
Ramsey Shipping Services: +44 (0) 1624 817453
Alongside:
Cruise vessels: 125m length x 6.0m draught at Berth No 2 (always afloat)
Cruise vessels: 105m length x 4.5m draught at Berth No 6 (always afloat)
Cruise vessels: 140m length x 5.5m draught or 120m length x 6.0m draught at Berth No 3 (always afloat)

The cruise liner tender pontoon was officially opened on the 9th July 2008 and it is located between No 1 berth Victoria Pier
and No 5 berth Edward Pier in Douglas outer Harbour. The pontoon is 24 metres long and 4.8 metres wide with a minimum
depth alongside of 2.0 metres and has two Rolec power pedestals providing fresh water. The link-bridge from the pontoon
is 40 metres long and has a maximum incline angle of 14 degrees at low water. There is a sheltered waiting area at the top
of the link-bridge with electric and water supplies that is also covered by CCTV and is only a short walk to the main Sea
Terminal building that has a full range of facilities.

Any vessels requiring use of the pontoon are requested to call the Marine Operations Centre on VHF channel 12 or +44 (0)
1624 686627. The pontoon is predominantly used for cruise ship tenders, but can be used for other vessels in bad weather
or in an emergency.

NB1: No3 may be untenable in strong winds NNE through E to SE.
NB2: These maximum criteria may be increased, depending on tidal levels prevailing, following consultation with the Port
Manager, but at his absolute discretion.
Anchorages:
For vessels up to 6.0m draught: Douglas Head: 196° x 0.7' in 11m water
For vessels up to 6.5m draught: Douglas Head: 199° x 0.9' in 12m water
For vessels up to 11.0m draught: Douglas Head: 212° x 0.8' in 14m water
For vessels up to 11.5m draught: Douglas Head: 215° x 1.0' in 15m water
Extra vigilance is required in strong winds from NNE through E to SE when, as a matter of prudence, main engines should
be kept on immediate standby. An alternative anchorage when weather conditions are untenable at Douglas would be at
Port Erin Bay or Derbyhaven Bay. Passengers may be disembarked as instructed by the Outports Manager.
Entry: Subject to notice and only on instruction from Harbour Control via VHF Channel 12.
Port Limits: Shore side of a line between Douglas Head and Banks Howe. For Harbour Control purposes, the limits extend three miles from the harbour.
Directions:
Entry is fained on the leading marks (Occ 10s W) heading 229° to clear the starboard hand buoys No 1 Q(3) G.5s and No 3 Fl.G.3s to starboard and the dolphin (2 F R Vert) off Princess Alexandra Pier to port. Tidal sets of up to 2 knost to the Northeast and South can be experienced just off the entrance on flood and ebb tides respectively. Tidal flow inside the harbour is negligible. Entrance can be hazardous in strong winds from NNE through E to ESE and not advised without local knowledge. Fresh water flow from the River Glass can reach 4/5 knots south side of the Edward Pier. Delays maybe due to tidal conditions and strong winds from NNE through to E to ESE. Vessel movements may be restricted
when passengers are transiting the elevator passenger walkway.
Max. Tidal Range: From-0.2 to 8.3 above C.D. (8.5metres) on high spring tides.
Pilotage: Is not compulsory but is available with prior notice to Agents or through the Harbour Pilot, Mr S Carter.Tel:+44(0)1624 861724.
Tugs: Two are presently available, 8t and 5t bollard pull - availablewith prior notice to Agents.
Radar: The port is equipped with radar.
ID Cards: Required for ISPS Code purposes.
Vessel Facilities: No.1 Berth has RoRo ramp (max load 100t) operated by Isle of Man Steam Packet Company. No.5 Berth has RoRo ramp
(max load160t) operated by Department of Infrastructure under terms of user agreement with Isle of Man Steam Packet Co.
Gangway: Gangways available for berth numbers 2, 3, 4 and 6.
Water: Fresh water is available at all commercial berths by arrangement.
Fuel: Fuel is available by road tanker through Agent or directly through:
Manx Petroleums (+44 (0) 1624 691691) CPL Petroleums (+44 (0) 1624 673551) Ellan Vannin Fuels (+44 (0) 1624 844000)
Water Disposal: Garbage skips or wheelie bins available on all piers. Limited waste oil disposal - contact Harbour Control.
Cranes: Assorted mobiles up to 100t SWL,mobile grab of 2/3t, by arrangement through Agent.
Stevedores: By arrangement through Agent.
Security Watchmen: By arrangement through Agent.
Linesman: By arrangement through Agent.
Terminal Facilities: ​​​​​​Cruise Welcome Desk, ATMs (English), Wi-Fi, Souvenirs, Self-service post office, Newsagents, Welcome Centre, Coach Parking, Toilets, Cafe, Taxi Rank. Within walking distance of town centre, bus station and Steam Railway.
Port Manager: Mark Kenyon, Harbours Division, Department of Infrastructure, Sea Terminal Building, Douglas, Isle of Man. IM1 2RF
Telephone: +44 (0) 1624 686628 Fax: +44 (0) 1624 686403 Email: MarineOperationsCentre.DOI@gov.im
Douglas Harbour Control: +44 (0) 1624 686923
Customs & Excise: +44 (0)1624 648100
Port Agents: +44 (0)1624 833955, +44 (0)7624 324234
Facilities
Travel & Trade