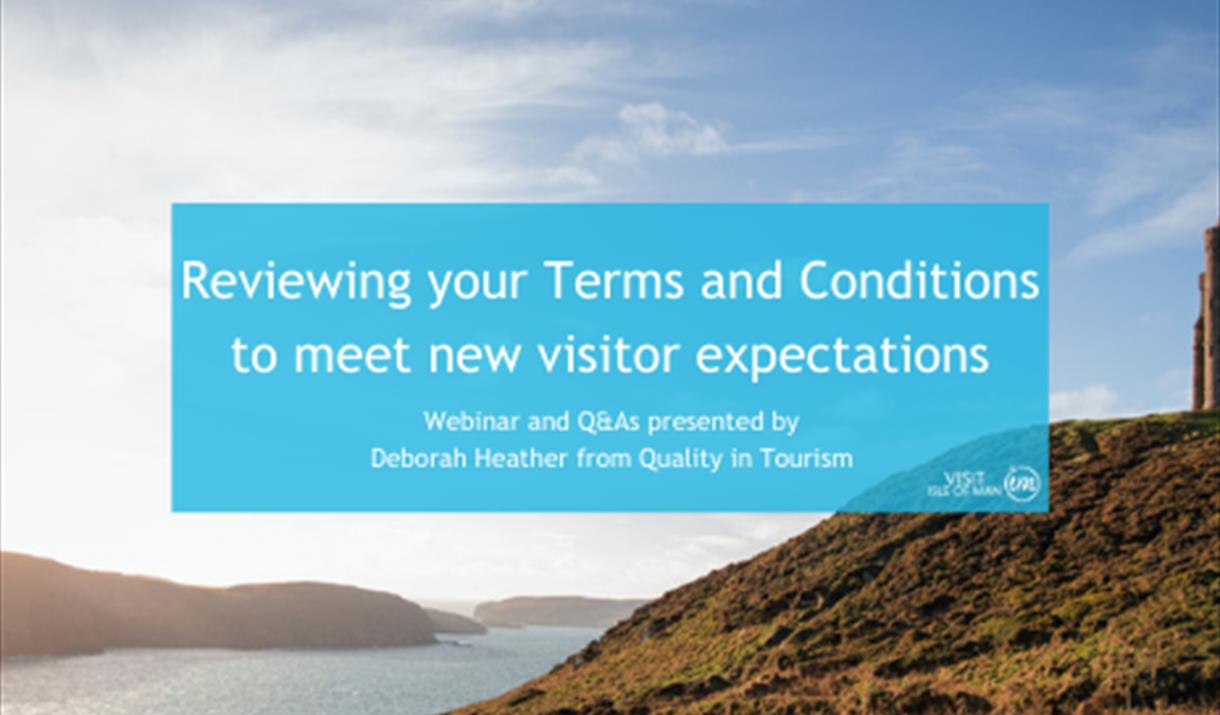 About
A webinar and Q&A session for Isle of Man tourism businesses from Visit Isle of Man and Quality in Tourism.
About this event
This is a valuable opportunity for tourism businesses on the Isle of Man to consider the best practice for their Booking Terms and Conditions in line with new visitor expectations following the pandemic.
The event will take place online and feature a 20 minute presentation delivered by Deborah Heather from Quality in Tourism followed by a Q&A session .
For many years the balance of power with terms and conditions has been with the operators. 2020 changed that with consumer rights coming to the fore, because of Covid-19. We have seen a more moderate approach in 2021, with protection for consumers, and protection for operators.
It is important that operators of accommodation in particular understand the nuances of their responsibility in terms of transparency. Legally "unreasonable" clauses will not hold up in a court of law, operators need to be proactive in sharing their T&C's to avoid chargebacks, and need to have in mind their long term future.
Related Tourism activities such as eateries, events, attractions or services can do a lot to improve the customer experience through transparency of their own T&C's and to some degree are better prepared to flex their businesses, especially those affected by the climate.
Deborah Heather, CEO of Quality in Tourism
Please note that any information provided at these sessions is not legal advice, it is best practice.
The event will be repeated, some sessions will be tailored to specific sectors but please attend whichever is most convenient to you:
Thursday 20th May
9 am - Eateries, Attractions & Activities
11:15 am - Glamping, Campsites & Hostels
1 pm - Hotels & Guest Houses
3 pm - Self Catering
Friday 21st May
9:30 am - All tourism businesses
3 pm - All tourism businesses
If you have any questions on tourism business t's and c's please submit these ahead of the event to tourismquality@gov.im and Deborah will endeavour to cover during the sessions.
Please be aware that the webinar will be recorded and made available to view on demand.