In August of this year, local resident Simon Pickering and his partner Cathy discovered the highs of holidaying at home, when they ventured to the South of the Island for a five day Staycation. Simon and Cathy stayed in the the characteristic Curlew Cottage; a quaint 1 bedroom, old fisherman's cottage in Castletown the ancient ex-capital of the Isle of Man. Simon diarised his five day staycation for Visit Isle of Man below:
Day 1
How exciting, our 2nd "Staycation" of 2020, a highly unusual year if ever there was one! We drove South from Douglas early afternoon - car jammed pack full of everything we would need, and more!
Passing the famous "Fairy Bridge" we commented how stress free a staycation is……no rush to the airport…checking in…possible delay…..have you got the passports, tickets etc.! and we get to pack the Fiat 500 with everything we could possibly need for 3 nights "down south" , including wet-suits, body boards, waterproofs, summer cloths, jumpers, coats et al….as you never know what the August weather is going to be like!
We arrived at the characteristic "Curlew Cottage" a quaint 1 bedroom, old fisherman's cottage in Castletown the ancient ex-capital of the Isle of Man, and quickly unpacked before heading out for a stomp up the lovely Silverburn River on the outskirts of the town. Feeling fit we carried on all the way to Rushen Abbey, following the "Raad Ny Skadden" which lines the river. From Rushen Abbey we headed back to base via Malew church – popping in to see the scary "Vampire Grave".
Best thing to do after a five mile hike? A pint of Okells in the famous Glue Pot pub situated less than a stone's throw from the Ancient Castle.
Home for a quick change followed by dinner at the nearby "Curry Club", delicious food and bring your own. Early night ready for the 2nd day!
Day 2
Started brightly, with a sunny breakfast on the rear terrace. On with the walking boots we set of for Port St Mary, via Scarlett along the coastal path. 6 miles later and we arrived in the picturesque harbour at Port St Mary……and after another Okells in the Albert beer garden (trend starting here?) We decide to grab the bus to Port Erin, which was packed due to the school holidays.
We settled into the outside area at the "Foraging Vintners" and remarked how lucky we were to be living on such a beautiful and safe island. Other couples we knew from around the Island turned up, and we had a great hour or two before getting the bus home. Tired and having done over 20,000 fit-bit steps we retire to the back garden.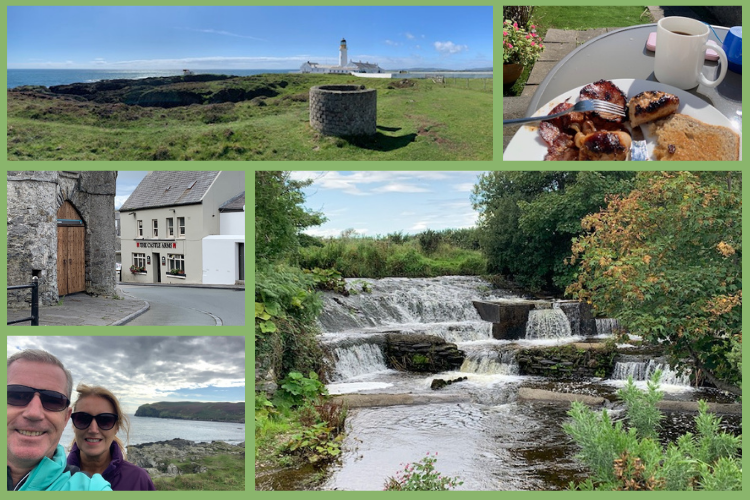 Day 3
The weather forecast was unfortunately correct as "Storm Francis" paid the Island a visit! No problem as after the first two days we were in need of a rest. We settled down to read and watch the TV, safe in the knowledge that we had an 8pm reservation at "Tuscany" a delightful little Italian restaurant just a two minute walk away. We had a lovely meal and met some great people, and will definitely be returning again. Home, but not quite to bed as a little dance in the lounge was necessary!
Day 4
We awoke to a lovely sunny post-Francis morning, and I proceeded to burn the breakfast and set the smoke alarm off….at least we know it was working! We jumped in the 500 and drove out to Derbyhaven for a walk around Langness, stopping at the famous lighthouse, and ex retreat of Mr Jeremy Clarkson!
Then we drove to the Sound for a coffee and a stroll around the clifftops to do some seal spotting, there were loads of them.
Back to the "Curlew" for a quick wash and brush up, before joining some friends at the George hotel before moving onto the "Garrison" for an excellent meal of tapas.
Day 5
We packed up and headed home, tired but happy that we had enjoyed our busy incredible Manx "Staycation".
---
Whether you're looking for a family adventure, a secluded getaway or perhaps just a change of scenery, our Island hosts a diverse and spectacular array of staycation options, providing you with the perfect base for your island staycation. Find out what's on offer here.
Related